Bond 2023 Information
P-W Plan: The Triple E" for our "Triple A"
Our facilities committee, as part of our strategic plan, focused on how we can bring both our Middle/High School and Elementary School buildings up to date and improve our current facilities. Our HVAC was a top priority with outdated heaters in the classrooms and boilers not adequately sized for the space. We worked with local and state agencies on audits and recommendations to improve our systems. At both the Elementary School and Middle/High School during the past two years, we have updated flooring, removed asbestos, repaired roofs and painted, as well as purchased furniture and updated spaces. We are committed to creating a capital needs assessment that focuses on maintaining our facilities. A bond referendum, not to exceed $17.6 million, will be up for vote to P-W Community Schools' registered voters on Tuesday, May 2, 2023.
The bond is focusing on areas determined in consultation with feedback from our community and staff and other stakeholders, in addition to commercial consultants. We came up with a plan to improve our current facilities by renovating and refreshing some outdated spaces, adding on to support our growing capacity and redoing some outdated/problem areas while being fiscally responsible to our tax payers. The "Triple E" Education, Efficiency and Exterior improvements for our "Triple A" Academics, Arts and Athletics.

Compilation video - all bond videos in one click! (20:49)

Triple E for the Triple A
The plan includes the following, in order of priority:
If you see video icon

that means there is a video to watch to explain that part of the plan.

Install heating, ventilation, and air conditioning upgrades for both buildings

Construct new media center and classroom additions and renovations of the existing media center at the Elementary School

Growth and Overcrowding at the Elementary School

Expand and renovate the Middle School/High School Cafeteria (has the MHS bathroom video tacked onto the end)

Update bathrooms in both buildings/ADA compliance (ES)

Update bathrooms in both buildings/ADA compliance (MHS)

Middle/High School Science Labs

Update interior finishes and casework in both buildings/Update windows in both buildings

Construct locker room building
Replace lockers in Middle School/High School
Create new band room entrance in hallway

Update auditorium with new finishes, improved lighting and sound system
Improve sidewalks and drainage at the Elementary School

Repair drainage issues with athletic field, including the option of turf (TWO VIDEOS)

Mill and resurface parking lot and playground updates

Weight room renovations
Resurface Middle School/High School parking lot
Demolish storage building at the elementary school
Please join us for three upcoming informational sessions open to the public to discuss the current bond:
Thursday, February 9, at 7 pm in the Middle/High School Library
Monday, March 20, at 5:30 pm in the Middle/High School Library
Wednesday, April 26, at 6 pm in the Elementary School Gymnasium
Do you have a question for Mrs. Goodman? Please call 989-587-5110 or email jennifer.goodman@pwschools.org. If you would like a meeting with you or a group of neighbors, please call or email and we would be happy to set that up. If you would like to submit a question and have us reach out to you, please click here and fill out the form.
Please check the information below for further details. The Department of Treasury approved our Preliminary Application and the Board of Education approved the call for the election. You can find the PQ application sections below under the appropriate headings or read the entire document here. Please continue to check out this page for videos and pictures!
While we have utilized different funding sources including our general fund and capital improvement fund to renovate and repair our facilities, we do not have the funds to replace our outdated HVAC system, renovate our buildings and fix issues with our current facilities. Pewamo-Westphalia Community Schools recently authorized a General Fund budget amendment for the 2022-2023 fiscal year that includes a budget deficit of $542,031. This is a very substantial deficit for a school district with budgeted General Fund revenues of $8,846,627 for 2022-2023. Our last bond was in 2014. Our facilities are in need of repair. We are committed to doing things right for our students, staff, and community.
Fast Facts about our "Triple E" for our "Triple A"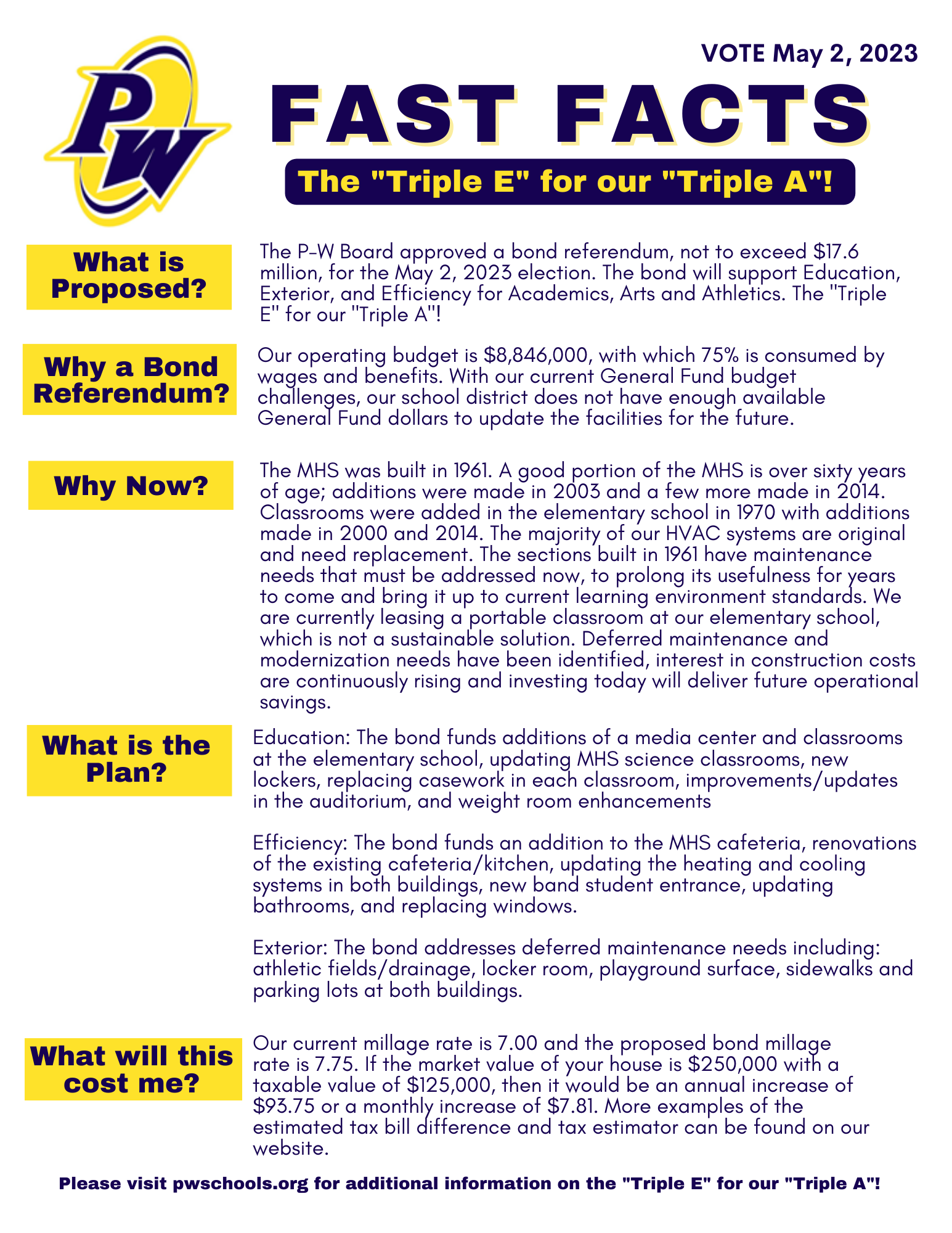 I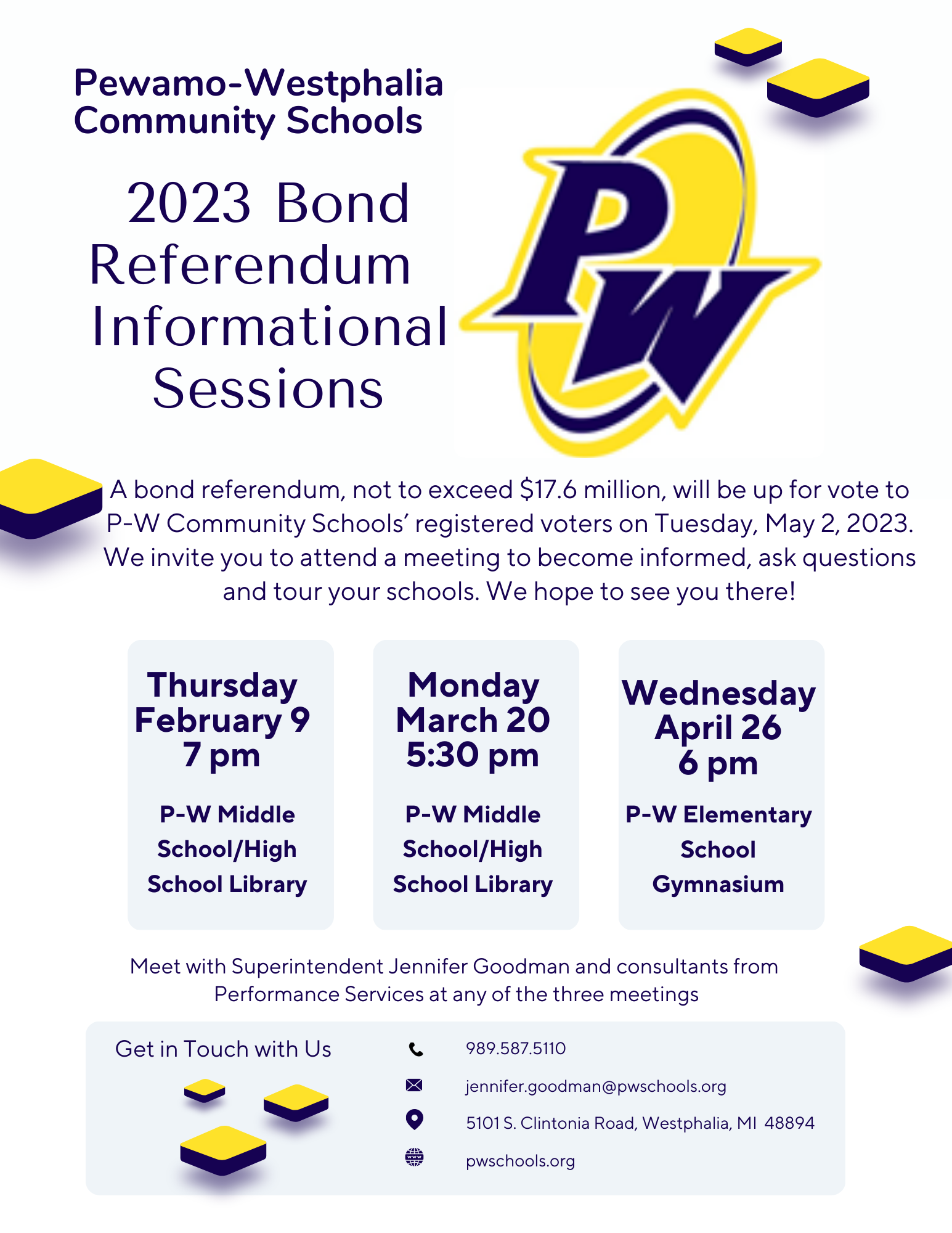 Community Questions - Answered

Community Questions-Answered
Pirate Log Special Bond Edition

The Pirate Log, Special Bond edition 2023

FAQ Document
Estimated Annual Tax Bill Difference
Please see the estimated annual tax bill difference below. The current millage is 7.0 and the proposed bond millage rate would be changed to 7.75. This would be an increase of 0.75 mills.
Current Millage Rates of Clinton County School Districts:
Pewamo-Westphalia 7 St. Johns 7
Fowler 7.34 Ovid-Else 7.8
Bath 9 DeWitt 10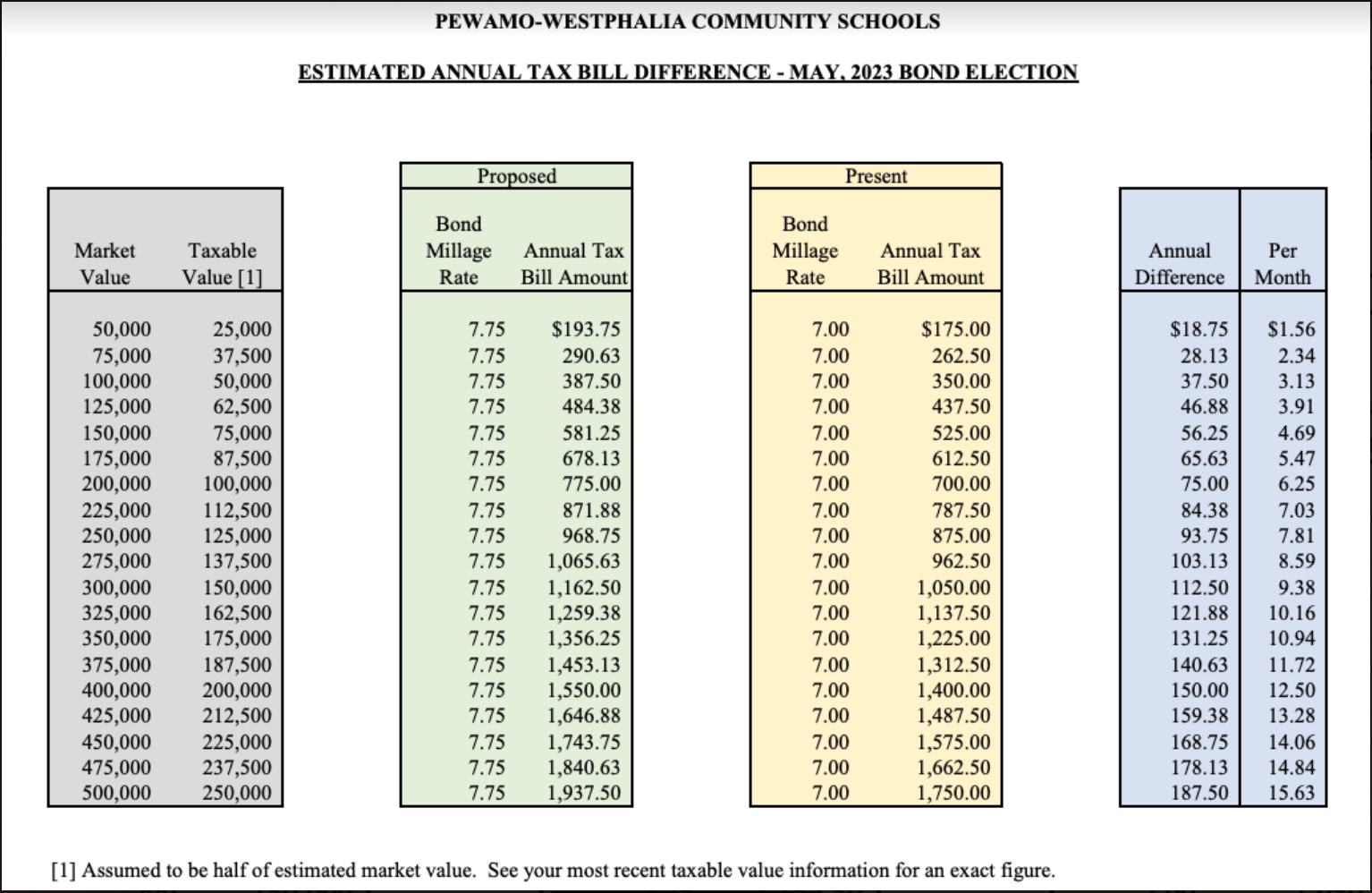 Estimated Millage Calculator
Note: Community Members may be eligible for the Michigan Homestead Property Tax Credit (the "Credit"). The Credit is a method through which some taxpayers can receive a credit for an amount of their property taxes that exceeds a certain percentage of household income. This program establishes categories under which homeowners or renters are eligible. We would recommend that community members consult their tax provider for eligibility and further information.
The above is an ESTIMATE of your net tax impact from the increase in millage for the above proposed bond issue. It is an estimate only and should not be relied upon as tax advice. You should consult your tax advisor to determine the exact impact on your tax computations.
Middle School/High School Proposal
Please find the Middle School/High School Proposal from the approved PQ application linked below.

Middle School/High School Proposal

Heating and Cooling (HVAC)

Middle/High School Cafeteria & Kitchen Renovation

Middle/High School Bathroom Renovation

Drainage

Athletic Fields/Why Turf?

Locker rooms

MHS Science Labs

Casework and Windows

Weightroom

Auditorium

Why are we talkingTurf?
Elementary School Proposal
Please find the Elementary School Proposal from the approved PQ application linked below.

Elementary School Proposal

Media Center & Additional Classrooms

Growth and Overcrowding at the Elementary School

Elementary Bathroom Renovation

Elementary Playground Surface

School Perceptions Survey Results