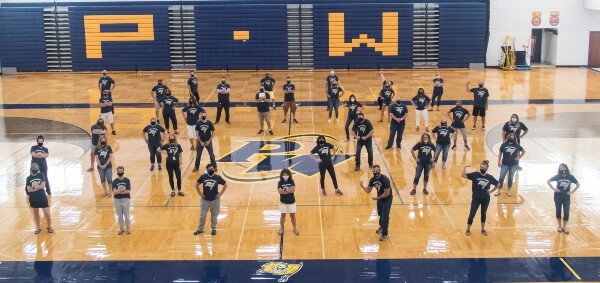 Champions' Culture * Pursuing Our Personal Best
Please see the Bell Schedule Page for information about class start and end times
Triple "A" Points of Pride
Academics
In 2020, Pewamo-Westphalia Community Schools was ranked among the top 15 best high schools in the State of Michigan by U.S. News and World Report and 685th in the nation. In 2018-2019, we led Clinton County with the highest 11th grade M-STEP scores in science and social studies, we had the highest average SAT score (1084.8) in the county, and we ranked in the top 65 highest SAT scores in the state of Michigan (65th).
Arts
Our industrial arts program competes at MITES (Michigan Industrial and Technology Educational Society), submitting woodworking projects completed each year. Our marching and concert bands consistently earn accolades at competitions and festivals, and our art students have been successful in the Scholastic Art and Writing Competition, earning awards for photography and poetry.
Athletics - Recent State Championships
Boys' Basketball ('19), Boys' Cross Country ('16), Football ('19, '17, '16), Girls' Basketball ('19), Girls' Track ('19, '15, '13, '10), Competitive Cheer ('19, '10, '08), and Boys' Track ('08). Numerous State Runners-Up, Regional, District and League (CMAC) Titles in Football, Boys' & Girls' Track, Boys' & Girls' Cross Country, Boys' & Girls' Basketball, Volleyball, Baseball, and Softball.

Communication Process
Questions, concerns, and ideas routinely arise during the school year. This outline is provided to assist in communication with the appropriate person.
Step 1: Questions or concerns regarding instructional practices should go to the teacher first. A discussion should be scheduled with the principal if you still have questions after talking with the teacher.
Step 2: If applicable, items not resolved in Step 1 should be directed to the administrator or director who has responsibility in the area of concern.
Step 3: A conference with the superintendent is most appropriately held if questions or concerns have not been adequately addressed at earlier levels.
Step 4: The final level of contact with the district about a question or concern is the Board of Education.
2020-21 P-W MS/HS Vision Targets

Upcoming Events
April 5, 2021
Blue/Gold hybrid for two weeks
April 13, 2021
Half-day for students
PSAT/SAT for grades 8-11; grades 6, 7, and 12 do not report
May 14, 2021
Senior exams
May 17, 2021
Senior exams
May 18, 2021
Senior walk to the elementary schools, send off assembly, and Senior Barbecue
May 19, 2021
Senior Trip
May 20, 2021
7:00pm - Commencement at Pirate Stadium
May 31, 2021
No school for staff and students
June 2-4, 2021
Half days for students
June 4, 2021
Last day of school/End of the fourth quarter/second semester
Our Staff
Todd Simmons
MS/HS Principal
Lauren Christensen

MS/HS Assistant Principal/Athletic Director
Lisa Bartlett

MS/HS Counselor
Stacey Johnston

Instructional Technology Specialist
Diana Hengesbach

MS/HS Secretary
Kali Klein
MS/HS Secretary


Kroger Rewards Program Information - Help our schools earn money!