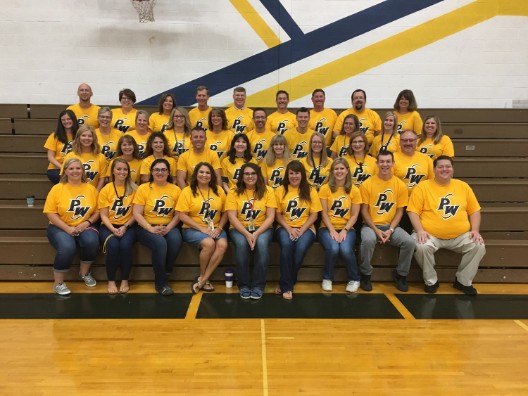 Champions' Culture • Pursuing Our Personal Best
2019-2020 P-W MS/HS Vision Targets
#1 we will grow our champions' culture
#2 we will challenge our students to advance in the areas of leadership, ownership, respect, character, and responsibility
#3 we will foster inclusion through empathy, problem-solving, education, and relation-building
#4 we will mentor and advocate for all students and staff in need of support
Please see the Bell Schedule Page for information about class start and end times
Communication Process
Questions, concerns, and ideas routinely arise during the school year. This outline is provided to assist in communication with the appropriate person.
Step 1: Questions or concerns regarding instructional practices should go to the teacher first. A discussion should be scheduled with the principal if you still have questions after talking with the teacher.
Step 2: If applicable, items not resolved in Step 1 should be directed to the administrator or director who has responsibility in the area of concern.
Step 3: A conference with the superintendent is most appropriately held if questions or concerns have not been adequately addressed at earlier levels.
Step 4: The final level of contact with the district about a question or concern is the Board of Education.
Upcoming Events
February 17, 2020
Flex Day
March 20, 2020
End of the third quarter
March 30-April 3, 2020
Spring Break - no school for students and staff
April 10, 2020
Good Friday - no school for students and staff
April 14, 2020
MS/HS Testing Day - Half day for students
May 4, 2020
Senior Chromebook Collection
May 5-15, 2020
AP classes and Senior class exams - please speak with your student regarding his/her specific schedule as testing will vary based on class schedule
May 11, 2020
Senior locker inspection
May 13, 2020
Senior Trip - Cedar Point
May 14, 2020
Graduation Practice - Senior Cookout - Senior Walk
May 17, 2020
Graduation - noon in the Pirate Fieldhouse
May 25, 2020
Memorial Day - no school for students and staff
June 2-4, 2020
MS/HS exams - half days for students
June 4, 2020
Last day of school - End of the fourth quarter/end of second semester
June 5-12, 2020
Flex days for snow day makeup if necessary
Our Staff
Todd Simmons
MS/HS Principal
Lauren Christensen

MS/HS Assistant Principal/Athletic Director
Lisa Bartlett

MS/HS Counselor
Stacey Johnston

Instructional Technology Specialist
Diana Hengesbach

MS/HS Secretary
Kali Klein
MS/HS Secretary


Kroger Rewards Program Information - Help our schools earn money!