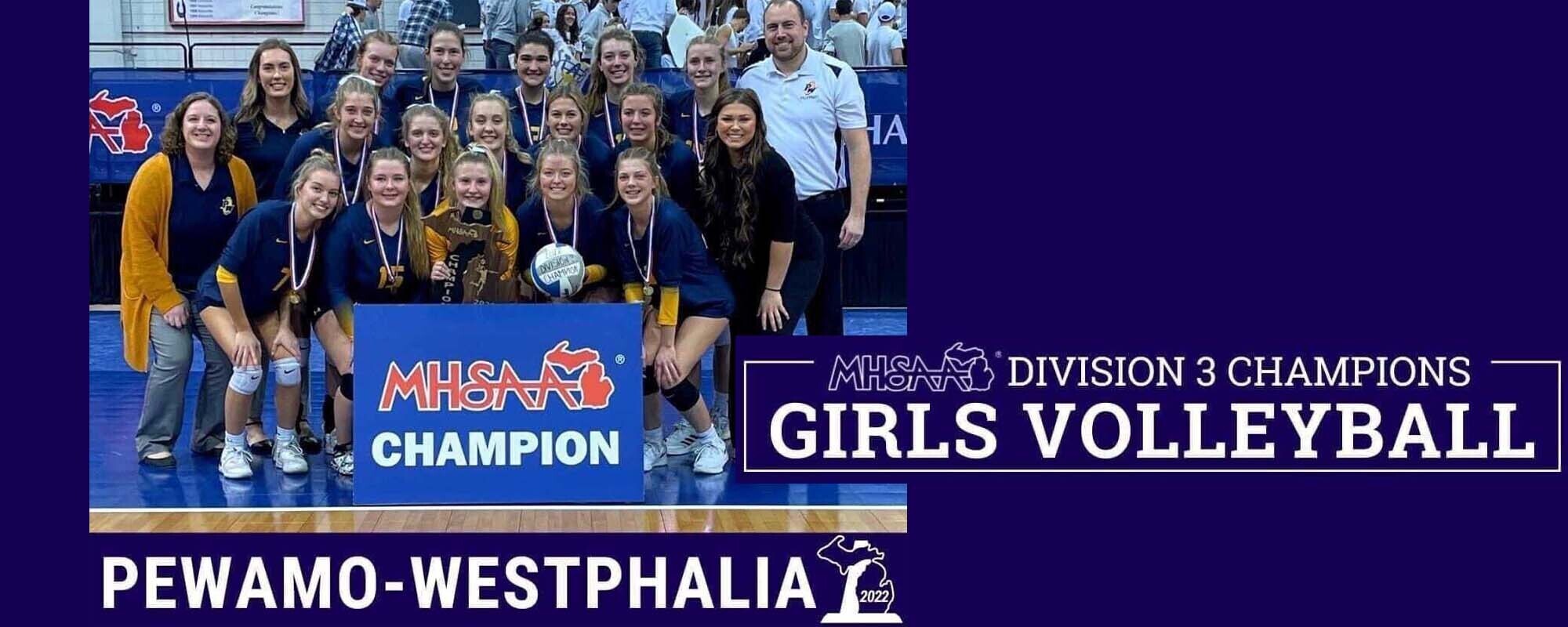 WELCOME TO

Pewamo-Westphalia Schools

Our "Triple A" Points of Pride!

Academics Arts Athletics

Board Meeting

Time:

7:00 PM to 10:00 PM

Location:

P-W Middle/High School Library

Calendar:

PW Website Calendar

Half Day of School

Calendar:

PW Website Calendar

Half Day of School

Calendar:

PW Website Calendar

Half Day of School

Calendar:

PW Website Calendar

No School

Calendar:

PW Website Calendar

No School

Calendar:

PW Website Calendar

No School

Calendar:

PW Website Calendar

Board Meeting

Calendar:

PW Website Calendar
PW District Calendar
PW District Calendar

Previous

November

2022

Next

S
M
T
W
T
F
S
1
2
3
4

Nov 4

1/2 Day of School

Calendar:

District Calendar

5
6
7
8
9

Nov 9

7:00 PM to 8:00 PM

Special Board Meeting

Location:

Middle High School Library/Media Center

Calendar:

District Calendar

10
11
12
13
14
15

Nov 15

No School

Calendar:

District Calendar

16
17
18

Nov 18

7:30 PM to 8:30 PM

Theater Performance of The Mystery Club

Calendar:

District Calendar

19

Nov 19

7:30 PM to 8:30 PM

Theater Performance of The Mystery Club

Calendar:

District Calendar

20

Nov 20

2:00 PM to 3:00 PM

Theater Performance of The Mystery Club

Calendar:

District Calendar

21

Nov 21

7:00 PM to 10:00 PM

Board Meeting

Location:

P-W Middle/High School Library

Calendar:

District Calendar

22
23

Nov 23

No School

Calendar:

District Calendar

24

Nov 24

No School

Calendar:

District Calendar

25

Nov 25

No School

Calendar:

District Calendar

26
27
28
29
30
September 23, 2022
Scott Werner named Girls Track and Field Coach of the Year
The Michigan High School Athletic Coaches Association has selected Scott Werner as Michigan High School Athletic Coaches Association Girls Track and Field Coach of the Year. Congratulations Scott! 
August 12, 2022
Pirate Football
Football practice started with some help from the Marines! Check out the video highlighting our football team! 
July 28, 2022
New Principal Ryan Portenga
Welcome Ryan Portenga as the new MS/HS Principal. 
Jennifer Goodman
Superintendent
Scott Brown
Business Manager
Debbie Prince
Executive Administrator
Substitute at P-W
We are looking for substitute teachers at our Elementary and Middle/High School Buildings. The requirements to be a substitute teacher have changed. You must have at least 60 credit hours from an accredited community college, or an accredited college or university, or have a current or expired Michigan Teaching certificate, or an out-of-state teaching certificate with transcripts showing 60+ credit hours. Additional information and details are provided at the website below:
Log on to EDUStaff or call (877) 974-6338.